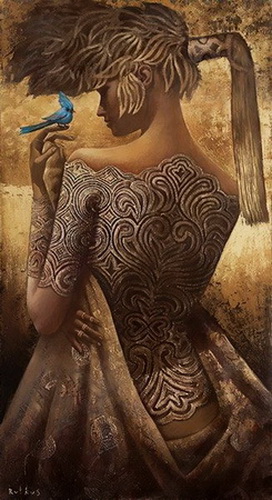 Mon œil s'est fait peintre et a fait resplendir la forme de ta beauté sur le tableau de mon cœur ; ma personne est le cadre qui l'enferme ; et c'est un chef-d'œuvre de perspective :
Car, habileté suprême, c'est dans le peintre même qu'il faut regarder pour trouver ton vivant portrait, pendu dans l'échoppe de mon cœur, dont les fenêtres ont tes yeux pour vitres.
Vois donc comme tes yeux et les miens s'aident réciproquement ! Mes yeux ont dessiné tes traits, et tes yeux sont les fenêtres de mon cœur, à travers lesquelles le soleil aime à se glisser pour t'y contempler.
Pourtant il manque à mes yeux une science pour embellir leur art. Ils ne dessinent que ce qui se voit ; ils ne connaissent pas mon cœur.
******
Mine eye hath play'd the painter and hath steel'd,
Thy beauty's form in table of my heart;
My body is the frame wherein 'tis held,
And perspective it is best painter's art.
For through the painter must you see his skill,
To find where your true image pictur'd lies,
Which in my bosom's shop is hanging still,
That hath his windows glazed with thine eyes.
Now see what good turns eyes for eyes have done:
Mine eyes have drawn thy shape, and thine for me
Are windows to my breast, where-through the sun
Delights to peep, to gaze therein on thee;
Yet eyes this cunning want to grace their art,
They draw but what they see, know not the heart.